Jim Gibbons Historical Presentations
Pictured is Margaret (Peggy) Anne Sansonetti who died in the Our Lady of the Angels School Fire at 10 years-old.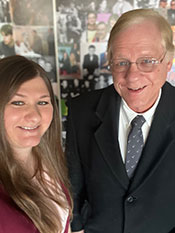 Jim Gibbons and his daughter, Michelle Gibbons, offer informative and riveting presentations that educate and enlighten audiences of all ages on events, people, and places in history. Drawing from their research and knowledge of past events, they bring to light information that applies to our lives today.
Based in Marengo, Illinois, Jim Gibbons Historical Presentations offers over 170 presentations for groups of all sizes. Jim and Michelle are available for in-person and virtual presentations in the morning, afternoon, or evening, 7 days a week. Programs are available statewide and nationwide.
---
Jim Gibbons and Michelle are available seven days a week for morning, afternoon and evening presentations in person and via the virtual platform Zoom. See calendar for updated event details weekly. Call or e-mail Jim or Michelle at 815.572.1244 (Jim) or 224.622.9339 (Michelle) to schedule your program today!

New programs now available to book select the Photos below to view program information!
Be sure to check out the presentations page on this site for more details and the program schedule to see one of Jim or Michelle's programs!
Contact us to book a presentation for your library, park district, senior group, school or event. Available 7 days a week for morning, afternoon and evening presentations!