Jim Gibbons Historical Presentations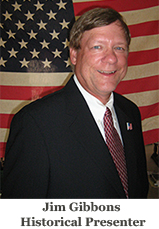 Jim Gibbons provides informative and insightful presentations on past events and people that both educate and enlighten his audiences. Drawing from his research and knowledge of history and present day events, he brings to light information that applies to our lives today. He is available to speak to your group on a variety of topics. He currently offers over 120 unique programs and has spoken at over 300 different venues.
Pictured is Margaret (Peggy) Anne Sansonetti who died in the Our Lady of the Angels School Fire at 10 years-old.
His presentation on the Our Lady of the Angels School Fire in Chicago, 1958, was extremely popular in 2012, and remains so. This tragic fire killed 92 children and three nuns. Based on his research, personal interviews and passion, Jim explains the details of this event. Jim's presentation on the Our Lady of the Angels School Fire continues to draw crowds and acclaim. Susan Parker, former staff member of the Marengo-Union Library District, said Gibbons' presentation was riveting.
"He gave you the idea that you were a witness, that you were there," Parker said. "You got the feeling of urgency that everyone at the scene must have felt."
---
Now joining Jim Gibbons Historical Presentations: Michelle Gibbons
Michelle Gibbons, a Marengo resident, historical presenter and Marketing Director for Jim Gibbons Historical Presentations, is making a name for herself teaching the importance of history. Through her passion for history and training from her father, Michelle debuted at several locations in 2019 and early 2020 with her popular program, "Following the Yellow Brick Road: The Life of Judy Garland. Michelle now offers a variety of programs both virtually and in person, including: The 1990's, The 2000's, The Life of Edith Head, The Life of Anne Frank, The Life of Helen Keller, and many more. She recently launched a new program on The Life of Robin Williams. Visit Michelles page and learn more!
Testimonials
"I just attended a South Suburban Adult Programmer (SSAP) meeting and told everyone how thrilled our patrons were with Jim Gibbons' presentation... More
"Many thanks for an excellent presentation on Eleanor Roosevelt. The Morton Grove Library audience was enthralled with both your slides and detailed narrative... More
"I have heard nothing but excellent comments about Jim's presentations on The Assassination of President John F. Kennedy and the Our Lady of the Angels School Fire... More
"You are the best! Not only do I learn so much, you make me smile with your enthusiasm and love for what you do... More
"On the behalf of Barrington Area Library, we would like to thank you for an outstanding program on "Our Lady of the Angels Fire". Our patrons raved about your excellent program... More
"Mr. Gibbons, thank you for making history fun and enlightening. My son said that he really enjoyed himself. We had a great conversation about history on our way home from your presentation. If we had more educators like yourself, more students would excel in history... More
"The staff and students of Eisenhower High School (Blue Island, Illinois), were thoroughly impressed with your presentation that commemorated the 125th Birthday of President Eisenhower. The members of the Social Studies Department were inspired by your infectious enthusiasm and truly felt that the students could not have been more engaged.... More
"Just a quick message to say how much I enjoyed your presentation on WWII that was given at the Alumni Center for Luther House here in Normal, Illinois last Thursday. I learned so much, and you had the audience in the palm of your hand! I hope I can hear you speak another time."
"... Some of our patrons comments your program last night included: "Amazingly knowledgeable;" "This program was very informative and Mr. Gibbons did an excellent job;" "Mr. Gibbons is very dynamic and passionate about his presentation;" and "[The] history of WWII came alive!"
Download Planning Calendars!
2020-2021 Program Topics List (with photos)
2020-2021 Program Topic List (words only)

Jim Gibbons and Michelle are available seven days a week for morning, afternoon and evening presentations in person and via the virtual platform Zoom. See calendar for updated event details weekly. Call or e-mail Jim or Michelle at 815.572.1244 (Jim) or 224.622.9339 (Michelle) to schedule your program today!
Chicago's neighborhoods: the many sides of chicago
Building a Community: The Many Sides of Chicago
Historical Presenter Jim Gibbons will discuss the many sides of Chicago. Gibbons will break down each side of Chicago's neighborhoods in a nine-part series, including: Chicago's Central District, Near North Side, Far North Side, Northwest Side, the South Side, Southwest Side, Far Southwest Side, Far Southeast Side and the West Side.
Historical Presenter Jim Gibbons will discuss the highlights and attractions of each community. He will also explain the history of each neighborhood, its past and current development and its expected growth for the future.
Select the buttons below to read about the program specifics for each neighborhood.
We are booking up fast for virtual and in-person programs! There are brand new presentations available and in development for 2022 via Zoom and in-person. Schedule your program today!
New programs now available to book select the Photos below to view program information!
Be sure to check out the presentations page on this site for more details and the program schedule to see one of Jim or Michelle's programs!
Contact us to book a presentation for your library, park district, senior group, school or event. Available 7 days a week for morning, afternoon and evening presentations!