Michelle Gibbons Historical Presenter
Michelle Gibbons, a Marengo resident, Historical Presenter and Marketing Director for Jim Gibbons Historical Presentations, is making a name for herself teaching the importance of history. Through her passion for history and training from her father, Michelle debuted at several locations in early 2020 with her popular program, "Following the Yellow Brick Road: The Life of Judy Garland. Michelle now offers a variety of programs both virtually and in-person, including: The Life of Robin Williams; The Life of Helen Keller; The Life of Charles Dickens; The Life of Ruth Bader Ginsburg; The Life of Katharine Graham of The Washington Post; The 1990's Decade; The 2000's Decade; The 1969 Woodstock Music Festival; and many more. In 2022, she will also be launching new programs on The Life of Johnny Cash (available for booking in February 2022) and The Oklahoma City Bombing (available for booking in April 2022).
Starting in 2012 as the Marketing Director, Michelle has helped her father's business blossom into a full-time career. Today, Jim Gibbons Historical Presentations has presented over 130 programs to libraries, universities, colleges, park districts, senior organizations and more nationwide. Prior to her father's business, Michelle worked as an editor, staff reporter and freelance writer for several newspapers, magazines and newsletters locally, nationwide, and worldwide. Michelle received her Bachelor of Arts Degree from Northern Illinois University in 2008 with double majors in Journalism and English and a minor in Political Science.
Using her father's slogan, "Life is no mystery, when you know your history," her goal is to not only teach the important parts of history, but to help others learn its value in today's society.
---
Now Available for Booking in February 2022: The Life of Johnny Cash
Johnny Cash received worldwide fame for being America's beloved musician and outlaw. With his deep, baritone voice and songs of genuine folkloric poetry, he inspired a new style of music. Historical Presenter, Michelle Gibbons, will take you into the life, love, struggles and stardom of Johnny Cash. Find Out More...
---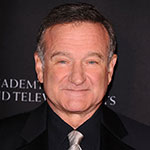 Now Booking "The Life of Robin Williams" program! For more information click here!
For more information or to schedule your program with Michelle, contact her at 224-622-9339 by call or text, or e-mail her at Jgibbons@jimgibbonshistorian.com
---
Jim and Michelle are available seven days a week for morning, afternoon and evening presentations in person and via the virtual platform Zoom. See calendar for updated event details weekly.
Come see a Michelle Gibbons program close to you or virtually—check out the program schedule!