About Jim Gibbons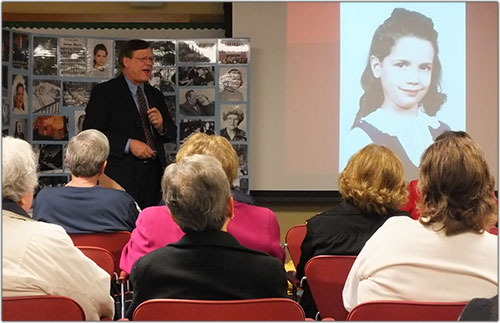 Jim Gibbons, a Marengo resident and historian, has made a name for himself teaching the importance of history. Using his passion for and strong knowledge of history, Jim offers riveting presentations on the 1958 tragedy of the Our Lady of the Angels School Fire, the 1963 Kennedy Assassination, the Lincoln Assassination, Pearl Harbor, the 1909 Cherry Mine Disaster, Alexander Hamilton, Amelia Earhart, Anne Frank, Princess Diana, Dwight D. Eisenhower, World War I & World War II, Chicago's Mayor Richard J. Daley, and many more.
Jim's presentations have brought in audiences of over 100, with many audience members repeatedly attending his programs in libraries, park districts, retirement communities, private venues, schools, and colleges in Illinois, Indiana, and Wisconsin. See the list of venues he has presented at, and read some testimonials. He was also featured in The Northwest Herald, Chicago Tribune and Chicago Sun-Times newspapers as well as radio broadcasts, such as The Front Porch (Marengo Community Radio WXMR 94.3 FM), RFD Radio Network, and The Dolly McCarthy Show. Check out the News page and the Radio & Video page.
Jim has been researching history and historical figures since he was in college. Using his slogan, "Life is no mystery when you know your history," he has a passion for retelling historical stories of presidential, world, and United States history, with a strong emphasis on how history continually repeats. Jim's goal is to not only teach the important parts of history, but to point out that if history's warnings are heeded, mankind stands to have a brighter future.
Jim is available seven days a week for morning, afternoon and evening presentations - serving Illinois, Indiana and Wisconsin. Jim also offers multiple program bookings on the same day (with consideration for time and distance between programs).
Contact Jim today to schedule a presentation for your group!
Come see one of his presentations close to you - check the Program Schedule!