Michelle Gibbons now Booking for 2021-2022
The below programs are currently available for booking. More will be added so check back often!
Now Booking "The Life of Robin Williams" program! For more information click here!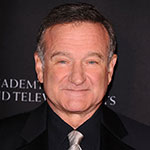 For more information or to schedule your program with Michelle today, contact her at 224.622.9339 by call or text, or e-mail her at Jgibbons@jimgibbonshistorian.com
Come see Michelle Gibbons at a program near you or via zoom! - check out the program schedule!
Presentations are available seven days a week for morning, afternoon and evening presentations in person and via the virtual platform Zoom. See calendar for updated event details weekly.